We find that the water heater is often one of the most neglected appliances in the home. Many of our customers admit that they almost never think about their water heater until it stops working properly. Once your water heater is beyond repair, you can trust us to do an expert job installing a new unit.There are various options for a new water heater. The first decision to be made is, do you prefer a gas or an electric water heating unit. The vast majority of our customers choose to replace old water heating units with the same type of heater. This choice saves time and money, especially if you thought about going from an electric unit to on that runs on gas.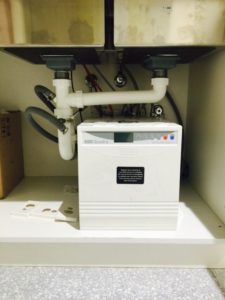 With advances in technology, customers have more than one choice in types of water heating units. The first option is a traditional water heater with a storage tank; a second alternative, which is gaining in popularity, is a tankless water heater. These work on the same principle as the traditional water heater, except that the water heats on demand as opposed to being stored. This option saves energy because there is no need to maintain the temperature of a tank full of water. Many of our customers have been pleasantly surprised with lower energy bills after opting for a tankless water heating system.
You can count on our plumbing specialists to take care of all the necessary preparations for installing a new water heater. We will turn off the necessary utilities, drain the old tank, and haul the old tank away. Typically, the job takes about an hour to two hours depending on unforeseen circumstances. After completing the installation, we will test your new water heater. We guarantee our work beyond the manufacturer's warranty and will prepare a yearly maintenance schedule to keep your water heater running well.